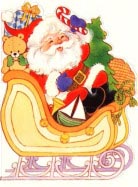 December 2010 –Children at the Harlem Dowling Children's Services, Mercy First and the Puerto Rican Family Institute were helped by two very special Santas to have a little more cheer this Christmas season. Under the guidance of Lions Don and Gladys Pemberton, over $9,000 was raised to provide toys and clothing to give some joy to over 700 children the holiday season!
This is the second season that the Pembertons have run their highly successful program with the Flatlands Lions.  We are proud to contribute to a cause that gives joy to so many children at the holiday season.
Happy Holidays to All.